The world of interiors is fast moving. The latest 'on trend' style is continuously in a state of flux. However, despite this, the colour grey has become an interior phenomenon which has transcended seasonal colour palette changes and interior fads. Tones of grey have now become the reigning supreme base colour of choice above the old key neutrals of the past such as beige or magnolia. The colour has stayed at the top of interior designers colour chart list and is well and truly here to stay...and we LOVE it!
That being said, using this colour to its full potential isn't straight forward. Rooms can easily feel flat and dull and even cold. So, for inspiration, we spoke with Lauren, one of our favourite Interior Instagrammers who has definitely got the art of using grey down to a tee. Check out her beautiful home here: Little Grey House.
Taking a virtual tour of her on-trend room schemes is a masterclass on how to create a super stylish yet inviting home using grey as the base colour and we've picked up a few tips: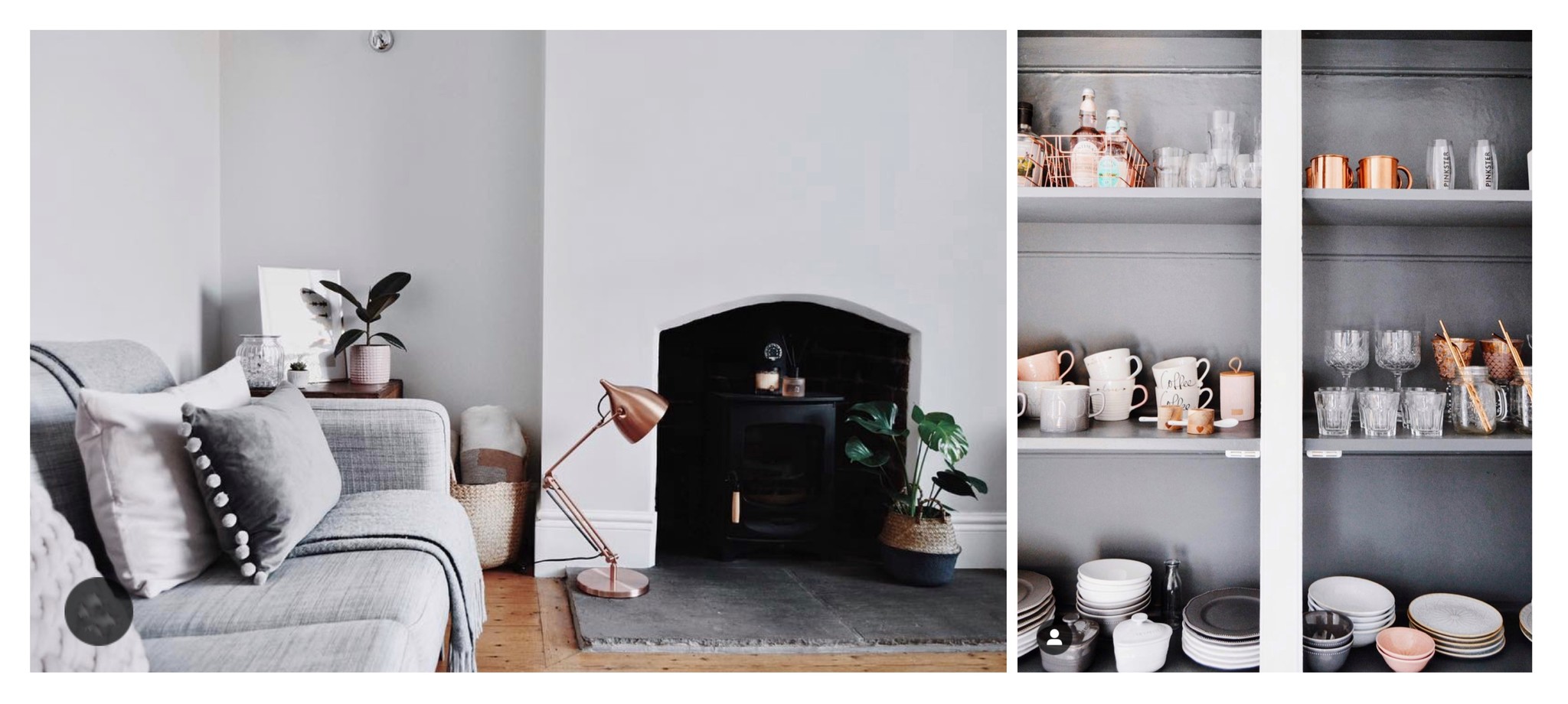 WARM METALLICS
At times the colour grey can come off feeling pretty clinical, yet as the pictures above demonstrate, Lauren has managed to perfectly balance the living room and kitchen areas by accessorising with warm metallics. The combination of brushed and polished copper table lamps and kitchen utensils against the soft tones of grey have instantly added a layer of warmth to the space. Copper is a must!
NATURAL TEXTURES
Alongside the use of copper accessories, introducing natural textures to a grey based scheme makes for an interesting juxtaposition; contrasting the flat grey tones with warm, organic shapes and colours. Laurens use of a Natural Wood dining table (pictured below) as the centre piece of the kitchen space,tied in with the wooden work tops and slate floor come together to create an effortlessly stylish scheme whilst still feeling inviting and homely.

PATTERNS
Warm metallics, natural textures and now Patterns! Lauren has mixed it up yet again here with a stylish flair and used both pin stripe and polka dot on the bedroom cushions against the soft grey walls and we love it! Again, it breaks up the intrinsically flat grey tone and adds splashes of life and personality. We also love the soft pink tone Laurens used in this room!
BLACK DETAILING
Finally, so often people avoid using black in their grey interior schemes yet Lauren has embraced it and used black accents throughout her beautiful home in small quantities. This adds drama and punctuation. Black is back.
For more grey interior inspiration keep an eye on Laurens Instagram: Little Grey House
Taken note and want to add Warm Metallics to your grey scheme?
Check out our collection of Copper Lighting.
Combine your new grey colour palette with Industrial Style Lighting: Shop here  
Want to achieve the Scandinavian feel in your new Grey home? Shop our Scandi Lighting Collection.