Interior Design 101:

What size ceiling light should I have over my dining/kitchen table?
So, you've decided you want a statement piece over your dining or kitchen table...GREAT CALL. This is one of the most effective ways to transform your area. BUT just like most of our clients, you're then immediately hit with two conundrums:


SIZE: What size light should I be looking for? How big should it be in relation to the table that we've already got? 
DROP: How low should it hang above the table to look right?  
We've got you covered; this mini-blog addresses the question of size so that you can start shopping right away. 

Once you've found your dream fitting (check out our extensive range of feature over-table lighting here) be sure to read our follow up mini-blog: How low should a light hang over a dining table?


Before we tell you the rule of thumb for getting the right size, we want to stress that you should treat the measurement you come out with as a guideline; a starting point. Interior design proportion rules are almost made to be tweaked and even broken.
BE BOLD. Above everything else, for over table lighting, be BOLD. Don't be conservative or go on the smaller side of your guideline measurement to play it safe; this just never looks good.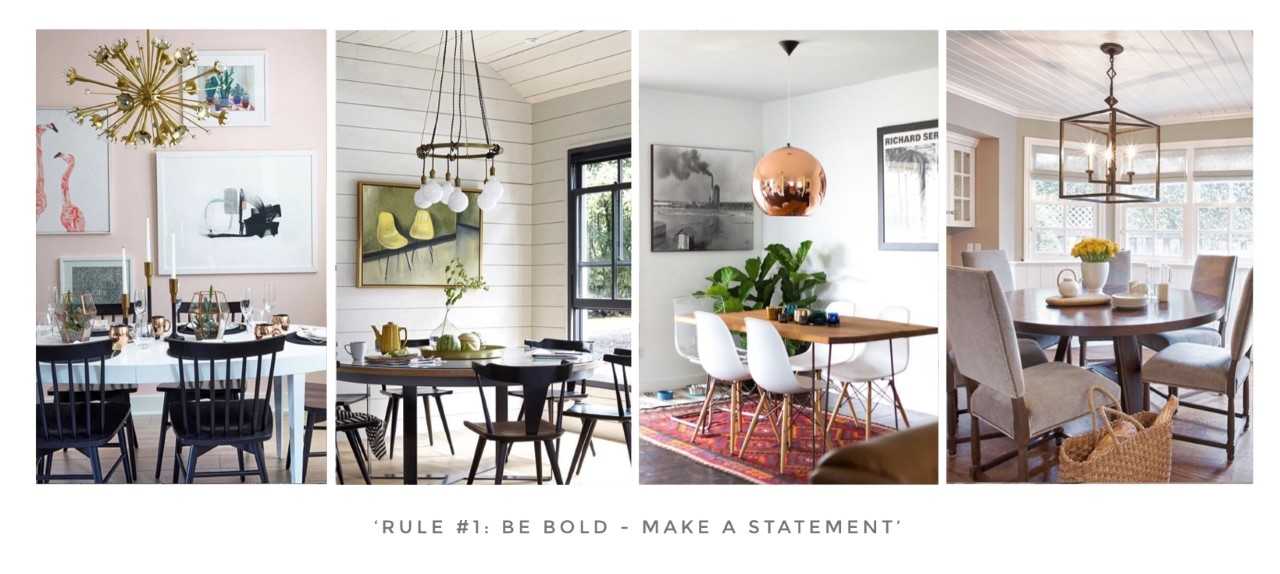 Okay, so the decision on size depends on table shape. We've split it up into two categories: 
Circular/Oval Dining Tables
To get the right feature light to table ratio we stick to this rule for circular and oval tables:

THE RULE OF THUMB:
IDEALLY your ceiling light will be appoximately 1 foot less than the diameter of the table.

EXAMPLE: If your dining table is 45" in Diameter, look for a light fitting around 21" wide. 
Dont worry about a couple of inches here or there, as long as you stay close to this, it'll look right. 
Square or Rectangular Tables
The same rule applies to square tables - try to keep that 1 foot table excess but with rectangular tables I would make a slight adjustment. 

RULE ADJUSTMENT FOR RECTANGULAR TABLES:
Try to find a fitting that is appoximately half the width of the table and approximately half to two thirds of the length. 
SORTED - So now get the tape measure out and decide what style you want:
A single feature light?
A stunning cluster/cascading fitting? 
A couple of industrial pendants? 

A multi-light bar pendant?

The possibilities are endless and now that you have your guideline measurement you can shop knowing what you're looking for!